Weather Equipment
The second semester (we're on a block schedule, so it would be second quarter), started with students in a real slump. Everyone's grades were dropping and they were yawning through activities. Then we went outside to use some of weather equipment a DPS grant made possible and students came alive. Saying the temperature in Spanish is much more exciting than doing a worksheet on numbers. Checking a rain gauge and reporting the weather in Spanish is a lot different than taking a test. Even our verbs got a lift as we practiced conjugations of the verbs to describe our various activities. Thank you!
-Vilo Westood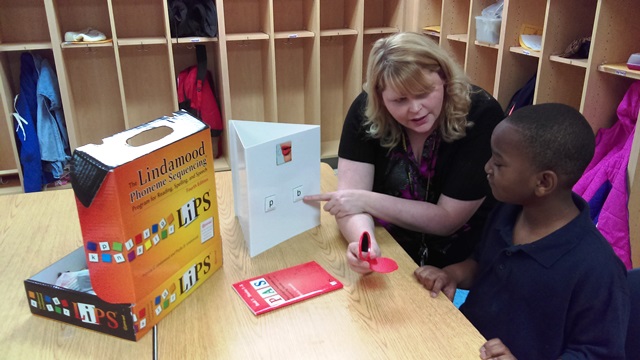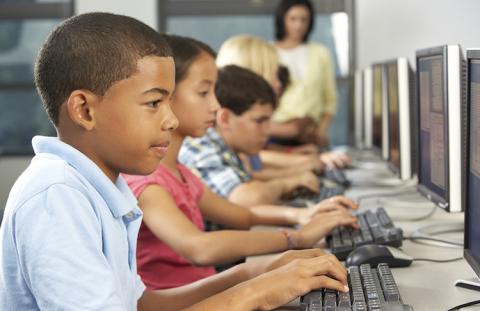 Online Magazines
I received a grant for a year's subscription to Kids Discover Online, a digital version the Kids Discover magazine. Even though I find it a valuable resource for assigning research topics and assessing my student's work in class, I see the real value for the students when I see them choosing topics that interest them. It is rewarding to see them so engaged with reading informational text, an area of difficulty for our students.
- Mary Espinosa
Reading Curriculum
The Stevenson Reading Program that I purchased with the money I was granted has helped me to break through to students that I have had very little progress with in the past. One little guy, Justin, who has struggled tremendously with spelling in the past, has gotten three 100's on spelling tests so far this school year. This has boosted his confidence greatly and has given him the ability to persevere. He exhibits much less frustration. He is so proud of himself and so am I!
- Lynda Hawkins
---

The Dayton Public Schools Foundation Teacher Grant recipients for School Year 2019-20 are as follows:
Kellery Beason - Thurgood Marshall STEM High, gds. 11 & 12  
 Working with Drone Technology   This equipment of new repair parts will enable to student teams to continue the successful drone navigating of last year.  It will allow the drones to be documented and recognized by the FAA so they can fly and attempt GPS tracking.
Erin Carey - Edison PreK-6, grades 4-6, Special Ed.
Flexible Seating and Behavior Improvement     This new classroom furniture will help students choose the type of seating that will help them focus, show more on-task behaviors, and be engaged in learning.
Lois M. Clark-Ramey - Stivers High, grades 7-12
Chamber Music Connection     To inspire and motivate Stivers Orchestra student musicians to participate in chamber music, the Cincinnati Symphony Orchestra String Quartet will perform.
Melinda Dickson - Ponitz CTC, gds. 10-12
Increasing Reading Comprehension in Spanish II and III   These books will enable students to read a book in Spanish of their choosing, then reflect on their reading, progressing through the year from easier titles to the more challenging ones.
Patricia Hocfbaum - Kiser PreK-6, gd. PreK, ECIP
Scholastic Classroom Magazine   The Scholastic Magazine will be used in class for a literacy lesson with discussion and internet-based activities.  Students will then be able to take it home to share with family and friends.
Patricia Hocfbaum - Kiser PreK-6, gd. PreK, ECIP
Gross Motor Active Play Kits   Equipment purchased (balls, mats) will be used to develop locomotor skills with control, coordination, and balance while playing indoors and outdoors.
Patricia Hocfbaum - Kiser PreK-6, PreK ECIP
Hygienic Toothbrush Holders   A hygienic place will be made to store the students' toothbrushes when they are not in use.  They brush their teeth every day after lunch as part of their well-being training.
Christine Irby - Westwood PreK-6, K-6 Spec. Ed.  - Funded by the Dayton Education Association-Retired (DEA-R)
Let's Get Back to Basics:  Aullwood  This special education unit will go on an adventure self-guided tour of Aullwood Farm.  Also, Aullwood would come visit the primary grades of Westwood with the musical performer Chris Rowlands and his show, "It's Wild Out There,"  all in pursuit of understanding animals both wild and domestic.
Patricia M. Lewis - Louise Troy PreK-6, grade 2
Louise Troy Garden   Students will be actively engaged in growing and caring for plants and a garden.  Ultimately they will learn where some of their food comes from, sharing any fruits and vegetables harvested with their families.
Mary McKnight - Thurgood Marshall STEM High, gds. 9-12
Microgreens and Aquaponics for Improving Health   Students will be developing a system for growing microgreens, as well as designing a successful aquaponics structure.  They will have a sustainable small business that will provide greens to the school as well as to the Gem City Market.
Sharon Noeth Miller - Thurgood Marshall High, grades 9-12
Increase Student Literacy   Two new interactive televisions will be installed in the school's media center to revamp its use as a learning commons to encourage collaborative discussion, staff training, and project-based learning—an extension of their classrooms.
Tiffany Penn - Eastmont PreK-6, gd. K
A World of Difference   Using materials and props for plays, the ESL students' voices will be heard sharing their personal life stories and cultural diversity and commonality. The plays will be presented for staff, students, and parents.
Nicole Plennert - Wright Brothers Middle, grades 7 and 8
Fitness for All!!!    Students, parents and staff will benefit from a free workout program offered after school twice a week to encourage Fitness for All.
James Rowland - Ponitz High, grade 9
STEM Paper Roller Coaster Competition   Students would work in teams to build paper roller coasters to hit targets during physical science class.  Activity will end in a competition.
Barbara Sollmann - Eastmont PreK-6, gd. 1
Daily PSA Practice    Curricular materials will be supplied that will help students embed phonological awareness skills by providing repeated practice throughout the day.  Teachers will receive training in the methods and use the materials all year long.
Tara Speidel - Kiser PreK-6, grade PreK.
Sensory Garden Path    The construction materials are provided for a sensory path to be built through Kiser's well established garden. It will honor the retiring principal, Mr. Fowler, and his special bond with their special needs students.
Hannah Stewart - Wright Brothers Middle, gds. 7 and 8
Map Skills   Students will use maps to reference when studying geography and human systems, an essential part of all social studies units.  They will also be used by English Language Arts and Science students.
Kristina Stieger - Rosa Parks Early Learning Center, gd. PreK
Creating A Better World Together   Students will engage in " Informances" during music and activities with resident artist, Red Grammer.  Then they will help Mr. Grammer put on an evening concert for their parents and community. Rest of fees will be raised by school fundraisers.
Liz Toomey - Ruskin PreK-6, grade 1                   
Writer's Workshop Color Covers   Students will enjoy their writings printed in color by their new colored printer.  Throughout the year their published Writer's Workshop projects with colored covers will be displayed proudly, motivating them to write more.
Andrea Weeks - Westwood PreK-6, grade 3
Scholastic News for Third Grade     Scholastic News provides  bi-weekly color news magazines with current event articles.  They are supplemented with video clips and other online resources for the teacher.  They are sent home and enjoyed jointly by their parents.
Mark Winkle - Valerie PreK-6, K-12, ESL
A World of Difference   Using materials and props for plays, the ESL students' voices will be heard sharing their personal life stories and cultural diversity and commonality. The plays will be presented for staff, students, and parents.
Kelly Wolfe- Belle Haven PreK-6, gds. 5 & 6, Special Ed.
Reading with Dignity:  Beginner Books for Pre-Teens   These emergent readers will have age-appropriate texts for novel studies and independent practice.  The texts will enable these older students reading below grade level to honor their interests ad experiences in order to feel motivated and competent as developing readers.